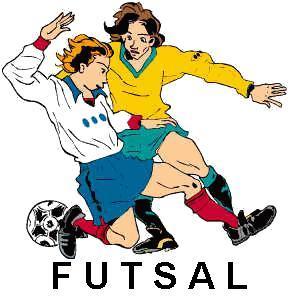 Futsal was born in Latin America during the thirties and got its name from the blend between the words « futbol » and « sala ». In 1978 the naming of futsal becomes official in order to change the expression Futebol de Salão and the rules are established by FIFA.
Ever since the sport hasn't stopped growing, both there and in Europe and Belgium.
It is under that impulse and thanks to the strong motivation of one off its members that BGS decided to create a whole new activity in September 2011, futsal. Our players will meet once a week on Monday. Under the watchful eye of Cristiano they will practice and play matches among themselves.
Before coming to play with us, you have to contact first the person in charge. You will find all the informations below.
When & Where?
When?
Every Monday from 8:15 to 10pm
Where?
Salle de Sport de l'Athénée Royal d'Etterbeek, Avenue Edmond Mesens 2, 1040 Etterbeek
Metro stop: Thieffry or Pétillon
Contact person: Cristiano
e-mail: futsal@bgs.org
Futsal cost
Membership fee: 15 euro
Price per session:
6 euro (normal price) or 3 euro (full-time student)
Yearly Subscription (12 months)
From 1st september: 130 euro
From 1st January: 90 euro
From 1st mai: 50 euro
The yearly subscription combined with the BGS membership fee allow you to play every Monday until 31 August.
| | |
| |
© 2009 Brussels Gay Sports