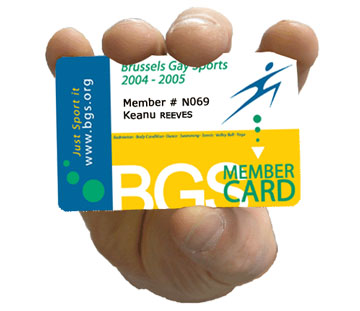 Your first participation in any of our sports activity is always FREE.
It is very simple to become a BGS member :
All you need to do is pay the annual membership fee, which includes :
- all administrative costs
- a full cover insurance in case of accident
- the right to take part in our Annual Board Meeting
- the Newsletter
- special prices and discounts for all BGS social activities (annual barbecue, parties, etc.)
The Membership fee amounts to :
15 euro from 1 September
10 euro from 1 January
5 euro from 1 May
To become a Member of the club, simply fill in the registration form which will be given to you by the person in charge of the activity you join.
If you are already a Member, you can renew your subscription here.
In addition, the BGS Membership card gives you access to special prices from the August 15th 2011 and deals from the following commercial partners :
15 % discount at Jogging Plus
Rue de Luxembourg 6, 1000 Bruxelles
Tel +32 2 511 11 70
10 % discount at Milan Coiffure - SVEN
Rue de Luxembourg 6, 1000 Bruxelles
Tel +32 2 511 11 70
10 % discount at L'Esprit de sel
Place Jourdan 52-54, 1040 Bruxelles
Tel +32 2 230 60 40 (special dinners excepted)
Discount at WorldClass Fitness Center (see details)
Rue d'Idalie 10, 1050 Bruxelles
Tel +32 2 503 15 57
tarek@worldclassfitness.be

10 % discount at La Porteuse d'eau
Avenue J. Volder 48, 1060 Bruxelles
Tel +32 2 537 66 46 (special dinners excepted)
VAN WEL Sport, badminton specialist
Minimun 20 % discount on most shop articles. Stringing between 15 and 20 EUR (10% discount on 6th stringing with reduction card). Box of Mavis 300 plastic 10 EUR.
Rue A. Marbotin 104a
1030 Brussels (Schaerbeek)
E-mail : vanwelsport@hotmail.com
Tel +32 486 66 84 60
Fixed 12 EUR entrance price every day at Sauna Macho (normal price: 18 EUR)
106-108 Marché au Charbon, 1000 Bruxelles
10 % discount at Monsieur K
Rue Antoine Dansaert 115
Tel +32 2 503 55 25
10 % discount at Helianthus
Chaussée de Waterloo 1471, 1180 Bruxelles
Tel +32 2 375 71 73