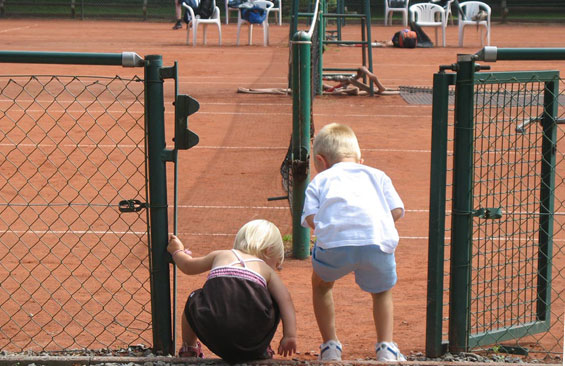 Pre-booking
Book your next time here:
www.bgstennis.org
Please note that this link is only accessible after you have attended tennis at least once. For your very first booking, get in touch with the contact person.
Anyone for tennis ?
If you are interested in playing tennis, come and join us!
We've been playing tennis since 1998 and it's been a big success. We can play all year around as we have arrangements for both the winter and summer seasons.
We have players of all levels and ages.
You will need to bring: a racket - it helps - even if it is also possible to borrow a racket in the beginning You will also need tennis shoes as the wrong shoes can damage the floor (indoors). Tennis balls are provided by BGS.
We play every Sunday (see below for timetables). If you like you can play for just one hour. We rent 5 tennis courts every Sunday.
As tennis is quite popular and with 5 courts only, we usually play in doubles. Pre-booking is essential on the mobile number below.
Please note that the location changes in winter and summer.
When & Where ?
When ?
Every Sunday
from 4.00pm to 6.00pm (summer season)
from 2.00pm to 6.00pm (winter season)
Where ? (summer)
Centre Sportif de la Forêt de Soignes ('Soignes' forest sports centre)
Chaussée de Wavre 2057
1170 Bruxelles
Metro stop: Hermann-Debroux
Where ? (winter)
Eurotennis Club St Josse
Avenue des communautés 12
1200 Bruxelles
Bus 80 (stop : deux Maysons)
Contact Person : Pierre
mobile phone: 0476-96.49.39
e-mail: tennis@bgs.org
Cost
Price per session :
In summer : €4 per hour (normal rate) or €2 per hour (full-time student)
In winter : €6 per hour (normal rate) or €3 per hour (full-time student)
Yearly subscription for summer:
50 euro for 1 hour
100 euro for 2 hours
Yearly subscription for winter:
100 euro for 1 hour
200 euro for 2 hours
Yearly subscription for winter + summer:
The subscription combined with the BGS annual membership fee allow you to play every Sunday for a season (winter/summer).