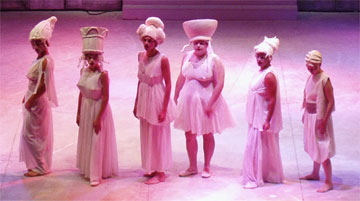 Have you ever wanted to pretend you are someone else ? Just like you were on stage... I am sure you have already grasped what this is all about. We are going to act !
Our small theater group was born on 19 October 2006 but very soon we have developed the wish to become a genuine theater company. But if we want to achieve this dream, we need to welcome a few more aficionados...
We want to continue to perform the tales we like, fairy tales, realistic tales or short stories where the characters grow spontaneously very Thursday...
To those of you who are interested we send a very loud "welcome".
When & Where ?
When?
Weekly rehearsals every Thursday from 8pm to 10pm
Where?
Palais du Midi (third floor - Billiards room)
3 Rue Vander Weyden
1000 Bruxelles
Metro stop: Anneessens
Contact Person:
Alain Montoisy
02/653.66.85
Cost
Membership fee: 15 euro
Price per session
6 euro (normal price) or 3 euro (full-time student)
Yearly Subscription:
From 1 September: 130 euro
From 1 January: 90 euro
From 1 May: 50 euro
The subscription combined with the BGS annual membership fee allow you to play all year.