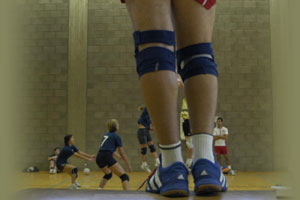 There is a specific volley-ball activity for women. This has been organised in order to enable women who already have a certain level to play with a net at women's height. If you want to improve your level or simply practice volley-ball, just come along to the new training sessions.
Attention!
If you want to train with us for the very first time, please call us in advance cause we might not be training but competing. This won't happen very often but it's better contact us to be sure.
When & Where ?
When?
Every Tuesday from 8.30pm to 10.30pm(full calendar below!)
Where?
Salle Gymnasium
214-216 Boulevard des Invalides
1160 Auderghem
Metro: Delta
Contact Person : Louise
mobile phone: 0474 888 948
e-Mail: volley.women@bgs.org
Cost
Price per session
6 euro (normal price) or 3 euro (full-time student)
Yearly Subscription :
From 1 September: 130 euro
From 1 January: 85 euro
From 1 May: 45 euro
The yearly subscription combined with the BGS membership fee allows you to play until 31 August.