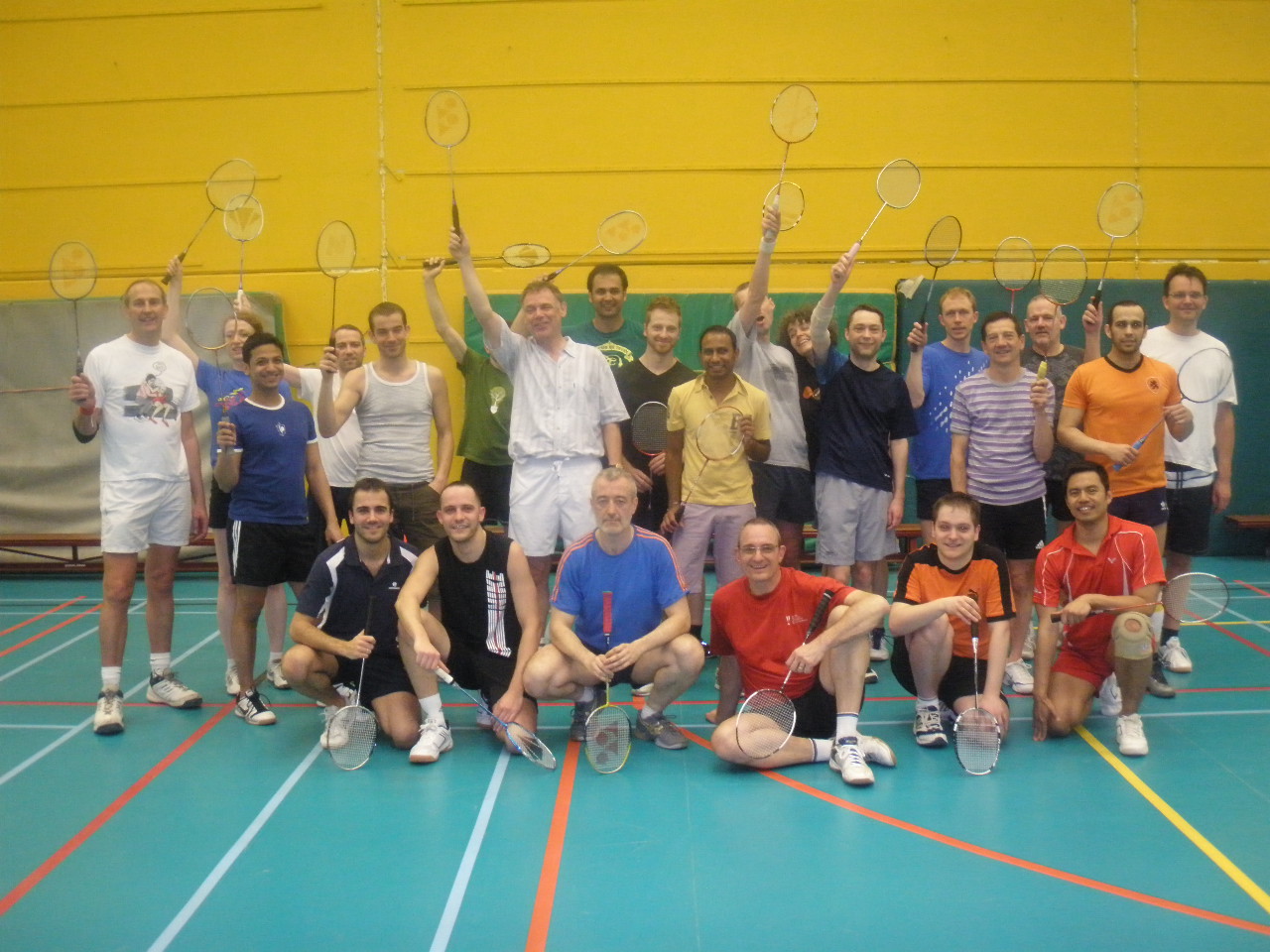 The Badminton section of BGS was created in 1994 by a group of enthusiasts; there were 4 to 8 players, both male & female by the end of 1995 and by 2005 there were 150 registered players.
The appeal of Badminton resides in the ease with which one can start to play and the simplicity of its rules. However don't be deceived by appearances; it is considered to be one of the most physically demanding sports requiring both speed and endurance and it is also tactically demanding.
Of course everyone plays to his/her own level. As a leisure activity, whatever your ability or level of fitness, it is a great sport to play among friends. At a competitive level there are numerous friendly competitions organised throughout Europe and the world.
Obviously to be successful in competitions training is required. To help you develop your game the group retains the services of a top-level (B1) player, Steve. Steve is available on Fridays from 9.00pm to 11.00pm, or on Wednesdays from19.30 to 21.30 to coach both beginners and more experienced players.
From the beginning BGS has participated in many competitions both Men's and Women's, local and international, where the BGS has won many prizes.
BGS has been represented regularly at the Gay Games and the Eurogames and has participated in tournaments in Paris, Rotterdam, Antwerp, Stuttgart, 'S-Hertogenbosch, Berlin, London, Cologne, Eindhoven, Ghent and Munich.
Participation in international tournaments sees as many as 40 players enjoying a weekend of sport and partying. Usually the host club arranges accommodation with their own members.
BGS also organizes its own annual International Tournament in September.
Your first time ? Download the welcome.doc
When & where ?
Every Wednesday from 7.30pm to 10.30pm
Koninklijk Atheneum Etterbeek
2 Av. Edmond Mesens
1040 Etterbeek
Trams: 23, 24 & 25 get off at Boileau
Every Friday from 9.00pm to 11.00pm (in july and august from 8.00pm to 10.00pm) at
Centre Sportif de la Woluwe
87 Avenue Mounier
1200 Bruxelles
Metro: Kraainem
Contact person :Pascal
Tel: 0477/90.76.14
e-Mail: badminton@bgs.org
Cost
Per session :
6 euro (3 euro for full-time students)
Subscription (12 months):
110 euro paid before 1st September (!)
130 euro paid after 1th September
85 euro paid after 1th January
45 paid after 1st May
The yearly subscription combined with the BGS annual membership fee allow you to play every Wednesday and Friday.