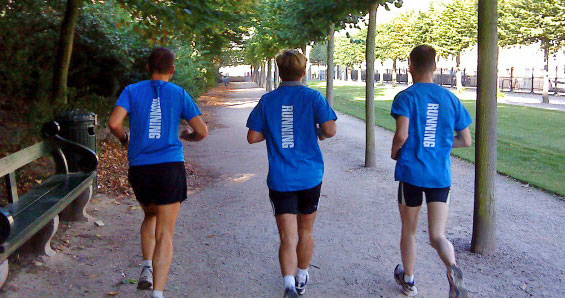 After a successful participation at the Brussels Ekiden 2009, a group of keen gay runners had the idea to continue running together. A new BGS-sport was born.
We train together twice a week (Wednesday evening and Saterday morning). Our fixed meeting-point is the Park of Brussels, but every now and then we will also try to discover other interesting running places in Brussels.
Currently, we do not have a trainer, but the more experienced runners will provide some interesting exercises and training ideas from time to time. We will also participate as a BGS team at 10k Gaston Roelands, Antwerp 10Miles and 20km de Bruxelles. Don't be afraid by the distances if you're still a beginner, we will help you to reach the finish!
Do you want to run with us? You can find our contact details below.
When & where?
When ?
Every Wednesday at 7.30 pm
Every Saturday at 10.30 am (Attention! On Saturday we will occasionaly run on another location)
Where ?
Park of Brussels - meeting point is at the main entrance (before the Royal Palace)
Bus lines 21, 27, 38, 71 and 95 - stop Ducale/Hertog
Tram lines 92 and 94
Metro lines 1 and 5 - stop Parc/Park or lines 2 and 6 - stop Trône/Troon
Villo station "Palais Royal/Koninklijk Paleis"
Contact Person: Pieter (0495215153)
e-mail: running@bgs.org
Cost
Cost per session:
Nothing, you just need to pay your membership fee (15 euro)