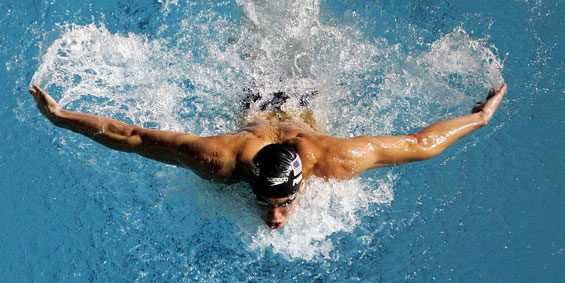 Swimming is healthy, and at BGS itís lots of fun too! BGS has been swimming for almost twenty years now and itís still a very successful activity. We now have over 60 people from about 16 nationalities regularly participating at the weekly training sessions.
Our swimmers can come to the Espadon pool in Etterbeek THREE TIMES EVERY WEEK for a solid portion of sports in a pleasant atmosphere. We swim on Tuesdays, Thursdays and Sundays.
According to strength level, training focuses on technique, endurance, speed and time trials, or more basically, learning and improving basic techniques. A typical training session will be built around the following elements: a 200-600 m warm-up, followed by technical development/endurance training, to end with a 100 to 500m cool-down.
Our swimming group is part of the Ligue Francophone Belge de Natation as this allows us to participate in officially recognized tournaments, on a national and international level.
But we are certainly not only there for sprinters and competition animals! If you just want to swim to stay in shape, while spending time with a bunch of friendly people, you are more than welcome to join us as well!
When & where?
When ?
Tuesdays from 7.30pm to 8.45pm (beginners) and from 8.45pm to 10.00pm (experienced)
Thursdays from 8.30pm to 10.00pm (from 7.30pm to 9.00pm in July and August) (all levels)
Sundays from 6.00pm to 7.30pm (all levels)

Where ?
Espadon Swimming Pool
69-71 Rue des Champs
1040 Etterbeek
Bus 34 or Tram 81
Responsable: Jan & Philippe
e-Mail: swim@bgs.org
Cost
Cost per session:
6 euro (normal price) or 3 euro (full-time student price)
11-Session Card:
60 euro (normal price) or 30 euro (full-time student price)
Yearly Subscription:
From October: 175 euro
From January 1: 120 euro
From May 1: 65 euro
The Swimming Subscription combined with the BGS membership fee allow you to swim every Tuesday, Thursday and Sunday up to August 31.

Brussels Starfish


International Gay & Lesbian Aquatics