Women only volleyball
Every Tuesday from 8.30pm to 10.30pm
Read more »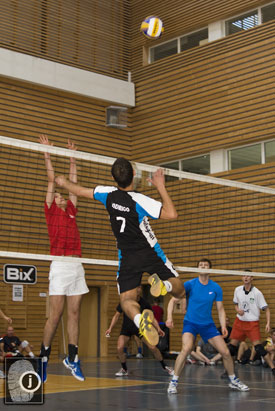 Volleyball has been played in BGS since its beginning in 1991 and it counts today on an enthusiastic and ever growing group, with trainings at multiple levels and with an intense calendar of competitions in Belgium and abroad.
The club participates regularly to LGBT international competitions such as Eurogames, Outgames and Gaygames and to other smaller tournaments in Europe. Every year in September we organise and host our own volleyball tournament in the framework of the Brussels Games.
In 2007 volley BGS decided to enroll in the Brussels and Wallon-Brabant amateur competition, organized by the B-T.A.I.F. and we are currently participating with 4 teams, competing weekly in 4 different levels.
We strongly believe in team spirit and in an inclusive approach to volleyball. No matter your sex, sexual orientation or level (4 specific trainings from very beginer to expert level, with 4 different trainers are given), we look forward to having you in the group!
When & Where ?
Beginners and elementary
When?
Every Wednesday from 8.30pm to 10.30pm (full calendar below!)
Where?
Salle Gymnasium
214-216 Boulevard des Invalides
1160 Auderghem
Metro stop: Delta
Intermediate and advanced and expert levels
When?
Every Monday from 8:45pm till 10:45pm (full calendar below!)
Where?
Complexe sportif du Palais du Midi
Rue Roger van der Weyden 3
1000 Brussels
Metro stop: Anneessens
Contact Person :
e-Mail: volley@bgs.org
Cost
Membership fee: 15 euro
Price per session
6 euro (normal price) or 3 euro (full-time student)
Yearly Subscription (12 month volley activity + the championship fee)
From 1 September: 130 euro
From 1 January: 85 euro
From 1 May: 45 euro
The yearly subscription combined with the BGS membership fee allow you to play every Wednesday until 31 August.